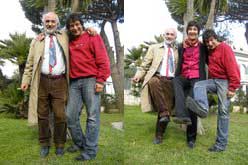 Intro, Antonio Infantino.
The 2009 Sangennarobar compilation is a dance hymn. It all dances and is introduced by an invitation to be placed in a circle ("Faciti Rota") of the most learned among the tarantolati, Antonio Infantino.
"Fimmini schietti e giovanotti aviti bontà, faciti Rota. Rota"
Memoria, Antonio Infantino.
Antonio Infantino, le Api e le tavolette orfico pitagoriche.
In the same days in which Sangennarobar 2009 comes out, at the Venice Biennale, Antonio Infantino presents together with Santina Nocerino (beekeeper and dancer), the Dance of the Bees. To celebrate these magnetic and vibrant creatures these two great artists wanted to give us a special track, recorded in Naples for Dj UèCervone. It is their personal interpretation of the sound of bees, embellished by a document taken from their study on the frequencies emitted by bees to transmit information. Accompanied by the "voice" of the bees and their "rhythmic design", Antonio Infantino recites an Orphic-Pythagorean tablet. A distant echo between religion and philosophy that comes to us from the 5th century BC All wisely mixed by Davide Barbarulo.
"Sono nato dalla Terra e dal Cielo stellato
Stella tra le stelle vengo tra di voi
Datemi da bere l'acqua che scorre fluida
Dal lago di Memoria".
---